BuildingSalem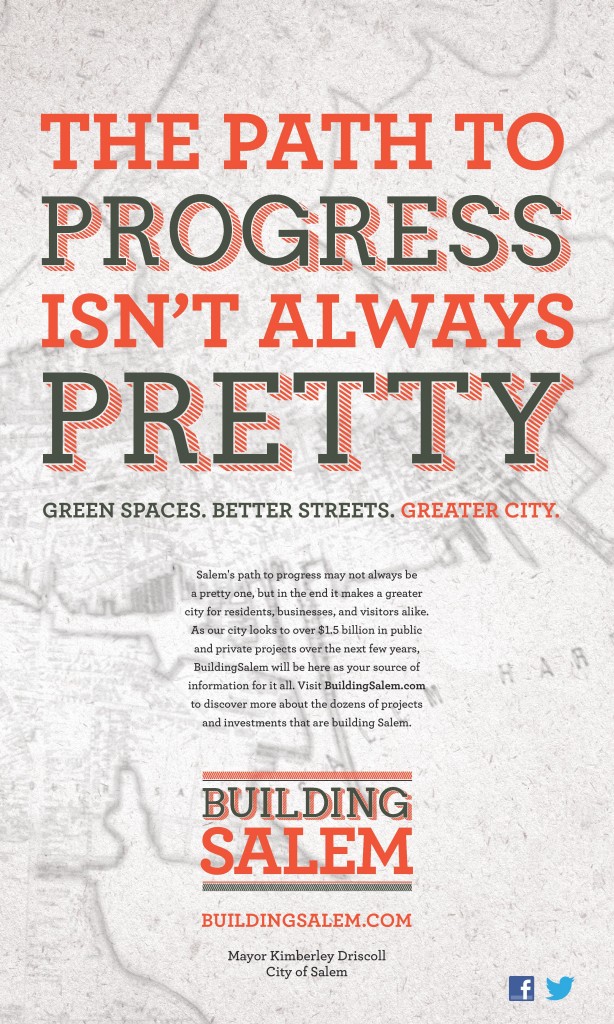 Updates from the Salem Cable Project:

Starting this morning cable removal began at the corner of New Derby Street and Washington Street. This cable removal crew will be working in the sidewalk on the right side of New Derby Street heading towards Lafayette Street. Once cable is removed from this stretch of New Derby Street this crew will continue working through the New Derby Street-Lafayette Street, where the cable route crosses to the opposite side of the street. We continue to coordinate with businesses along the removal route ahead of excavation. Please note that work sites will be set up to ensure that entrances to businesses are accessible during, and after work hours.

On Derby Street our cable removal crew is making good progress. During the first half of this week they will be working on the Turner-Hardy Street block of Derby Street. We expect this crew to approach Daniels Street by the end of the week. Please note that while we do not expect road closures at either end of the removal route, there maybe be times when traffic is slowed or stopped to allow for excavation across intersections, and for construction vehicles to reconfigure themselves inside of these work areas.

You may also notice other activities near manhole locations associated with our project, as contractors work to remove the obsolete duct bank housed underground T-146 cable that connects the Canal Street Sub-Station, and the Salem Harbor Station via Cedar Street, Lafayette Street, and Derby Street. All other construction activities this week will take place inside the Canal Street Sub-Station, and the Salem Harbor Station.

As always, police details will be present at our work sites to facilitate vehicle and pedestrian traffic management. Please continue to exercise caution when approaching these active work areas to minimize risks to personal safety, and to avoid any interference with construction.

We look forward to continuing to work with you to complete this work as quickly, as safely, and with as little inconvenience as possible. As always, if you have any questions, please do not hesitate to contact a member of our outreach team by calling our toll-free hotline at 844-SALEM-CABLE or through the "Contact Us" feature on the website. ...