BuildingSalem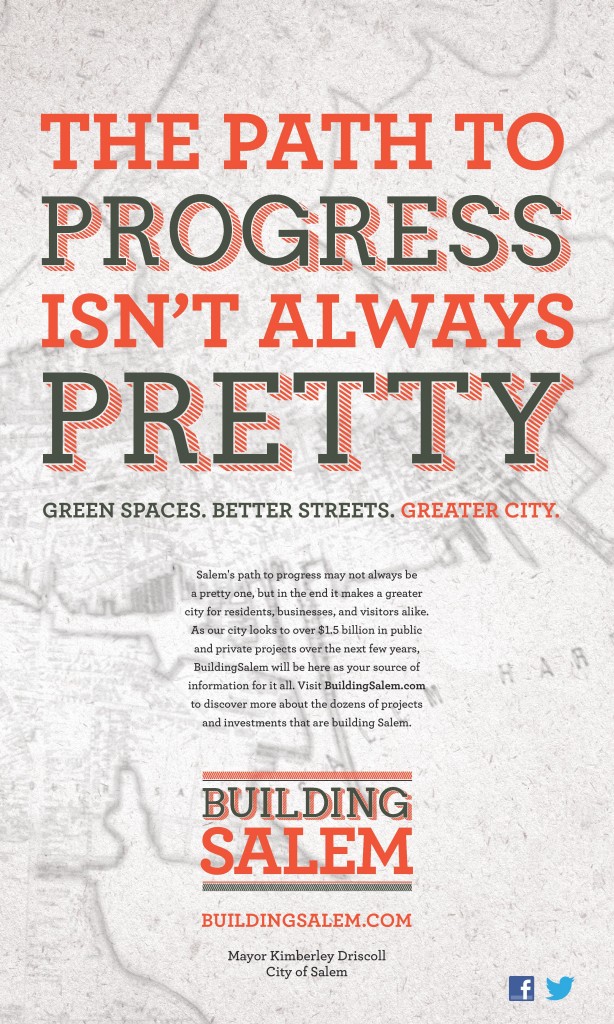 Updates from Salem State University:

Off-Hour Work
Daniel O'Connoll Sons will be continue to work on steel erection and enclosing the building for the Mainstage Theatre this Saturday, February 13, 2016 starting at 8 a.m. There is no construction work expected on Monday, February 15.

Sophia Gordon Center for the Creative and Performing Arts
Contractors continue to work on the interior steel erection and exterior enclosure of the building. This is expected to be the major activity for the next couple of weeks. The contractor is expecting to have the building enclosed this spring.

The contractor is still in the process of coordinating the installation of two new electrical poles in front of the Mainstage Theatre as part of this project. The schedule is dependent on National Grid, but we anticipate that the poles are likely going to be installed in Saturday, February 20. National Grid prefers to do this work on a Saturday to reduce the impact on traffic. There is no expected outage with the installation of the poles. Work related to switching the power over to the new poles will not occur until later this spring, likely sometime in May, pending National Grid's schedule. This is the only work that may cause an outage. National Grid is in the process of determining if this work can be done with no outage to neighboring homes. We have asked National Grid to keep us informed with as much advanced notices as possible as this process moves forward so that we can keep everyone updated.


NORTH CAMPUS PLANNING STUDY
In partnership with the Massachusetts State College Building Authority (MSCBA), the university will release an RFP in the coming month to solicit a planner to help us evaluate our master plan for North Campus with consideration of the campus center, housing needs, and academic programming as it relates to the relocation of South Campus to North Campus. This study will also evaluate the potential relocation of the Horace Mann Laboratory School to South Campus. As the study moves forward, there will be ample opportunity for the internal and external campus communities to provide input. The scope of the RFP will be reviewed at the SSUNAC meeting on February 17. ...